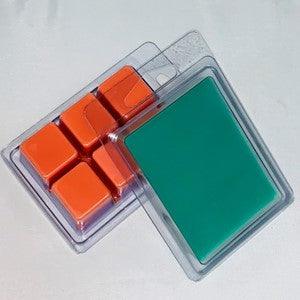 These 2.4 ounce wax melts are the perfect wickless candle!  Made with a high quality soy, paraffin and beeswax blend, each cube can last up to 20 hours depending on the type of burner you are using.  Wax can be left uncolored (Ivory), colored in our standard listed colors, or colored per your specifications.  If we are not notified of any special requests, they will come in the standard colors listed.  
Minimum order applies.  Customer must purchase a total of 100 wax melts, with a minimum of 25 of each scent chosen.  Orders that do not meet this requirement will be cancelled.  Questions can be sent to info@cjcandlesupply.com
While our wax melts have very little to no frosting, it will happen occasionally.  This does not hinder the quality of the candle in any way.  
Private label candles are not returnable.  We recommend you contact us to purchase samples before placing a large order.  
Please note, if we are labeling your products, please add the one time Design Fee Item to your cart before completing.