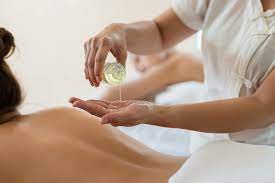 This Massage Oil base does not need to be diluted and is great for people who want to add their own special ingredients or simply use as is.
Ingredients: Mineral Oil, Sunflower Oil, Safflower Oil, Caprylic Capric Triglyceride, Sesame Seed Oil, Jojoba Seed Oil, Olive Oil, Vitamin E (Tocopheryl Acetate), Vitamin A (Retinyl Palimitate)
Please note, if you are going to add fragrance oil, ensure it is skin safe and that you are within the limits on the IFRA statement for that fragrance.  
Flammability / Combustibility Warning:
Clothes stained with this oil or other ingredients purchased on this site may be flammable and washing may not remove all residues. The CPSC recommends washing clothing, rags or other material saturated with any substance found on this site more than once and then hanging to dry to avoid spontaneous combustion in a dryer.  CJ Candle Supply is not responsible for fires caused by use of our products! 
.