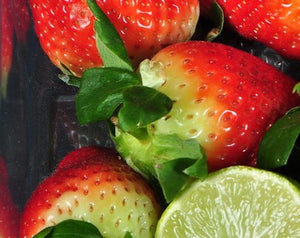 Our Berry Bergamot oil combines the freshness of bergamot with the sweetness of strawberry for a pleasing fruity medley.   Bright and delicious, your nose will be delighted.  We always recommend ordering a 2 oz sample fragrance, as fragrance oils are not returnable.  Skin safe very low limits - see below for IFRA Compliance Information.  
Top Notes:  Strawberry, Bergamot
FlashPoint:       190 Degrees
Vanillin Content   YES
Ethyl Vanillin  0%
SKIN SAFE = Very Low Limits, see below for IFRA info
Components listed on California's Proposition 25
Myrcene (Naturally Occurring)
Safrole (from Natural Sources)
Eugenyl Menthol (Naturally Occurring)
Essential Oils:  Lemon Oil California, Nutmeg Oil, Cedarwood Oil Virginia, Clary Sage Oil, Petitgrain Oil S.A.


Application Level / Limit Application Level / Limit 
Category 8:          0.05% 
Category 9:          2.31%   
Category 11A:       0.05%
Category 11B:       0.05%
Category 12:         26.66%
IFRA Class Class / Category description of products

1     Products applied to the lips
2     Products applied to the axillae (armpit)
3     Products applied to the face/body using fingertips
4     Products related to fine fragrance
5A   Body lotion products applied to the body using the hands (palms), primarily leave on
5B   Face moisturizer products applied to the face using hands (palms), primarily leave on
5C  Hand cream products applied to the hands using the hands (palms) primarily leave on

5D  Baby creams, baby oils and baby talc
6     Products with oral and lip exposure
7A   Rinse off products applied to the hair with some hand contact
7B   Leave on products applied to the hair with some hand contact
8     Products with significant anogenital exposure
9     Products with body and hand exposure, primarily rinse off
10A   Household care excluding aerosol products (excluding aerosol/spray products)
10B  Household aerosol/spray products
11A   Products with intended skin contact but minimal transfer of fragrance to skin from inert substrate without UV exposure
11B   Products with intended skin contact but minimal transfer of fragrance to skin from inert substrate with potential UV exposure
12     Products not intended for direct skin contact, minimal or insignificant transfer to skin