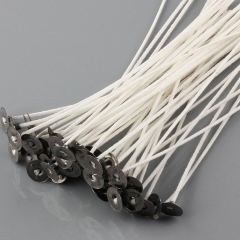 These wicks are primed with high melt point paraffin wax, cut to 6" and tabbed.  They have a 20 mm round wick tab and a 6 mm neck. They are coreless, non-directional, flat braided wicks with a special paper filament woven around them.  
The jar size is only a recommendation tested in soy.  Sizes are based on the widest part of your jar.   You will need to test with your own wax and jars to find the ideal wick for your needs.  
Sold in packs of 25 wicks each
The team was able to put the items together super fast!