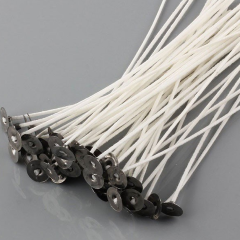 Approximately 1000 wicks in a single bag.  
These wicks are primed with high melt point paraffin wax, cut to 6" and tabbed.  They have a 20 mm round wick tab and a 6 mm neck. They have a flat braid, are a coreless, cotton wick with thin paper filaments interwoven for burn stability. The specially treated paper threads provide a controlled curling of the wick making the ECO series self-trimming, which results in minimized mushrooming, soot and smoke.
The jar size is only a recommendation tested in soy.  Sizes are based on the widest part of your jar.   You will need to test with your own wax and jars to find the ideal wick for your needs.