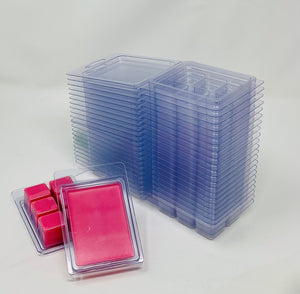 MADE IN THE USA AND RECYCLABLE!!!  High quality molds.  They
hold approximately 2.5 ounces of wax if poured to top, and each cavity is approximately 1" cube
Sturdy, with a tight seal to ensure candles stay fresh but can still be opened and closed easily.  
Perfect for all types of wax or soap, pouring up to 160 degrees, works with labels size 2 1/3" x 3 3/8"
These molds are packed loosely and separate easily, they are not stuck together like others you will find.
Perfect
I have purchased these clamshells multiple times. Love them.
Not clear
I wish I had known that there was a blue/grey tint to the clamshells because I would not have purchased these ones. The photos look closer to clear than they actually are in real life.